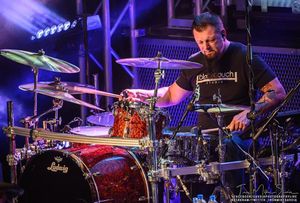 John was born in Southern California and raised in Ventura California. John started playing drums at the age of 4, learning from his father who was a drummer as well. He grew up with all styles of music through his childhood: from Led Zeppelin to Chicago and everything in between. He started playing professional gigs at the age of 14. John was heavily involved in the L.A. rock scene in the late 80s and early 90s, joining The Brave during the Trust era after Randy went from drums to vocals. When the The Brave disbanded in 1994, John moved to Nashville. He has recorded and toured around the world with artists including Sara Evans, Chris Cagle, Aaron Tippin, Kelly Coffey, Paul Brandt, and many more. John is currently the drummer for Country Music superstar Trace Adkins. He has worked with Adkins for many years and is thankful to have a gig he loves for so long. 
    John is finishing up drum tracks for the Evie's Little Garden CD and stoked that he has opportunity to create new music with The Brave again.  

Hometown: Ventura, California

Instrument: Drums & Percussion

Influences: My Pops, John Bonham, Jason Bonham, Jeff Porcaro, Steve Smith, Todd Sucherman, Anything with a groove - the list is too many to mention!