HEAVENS METAL REVIEW FROM KEVEN CROTHERS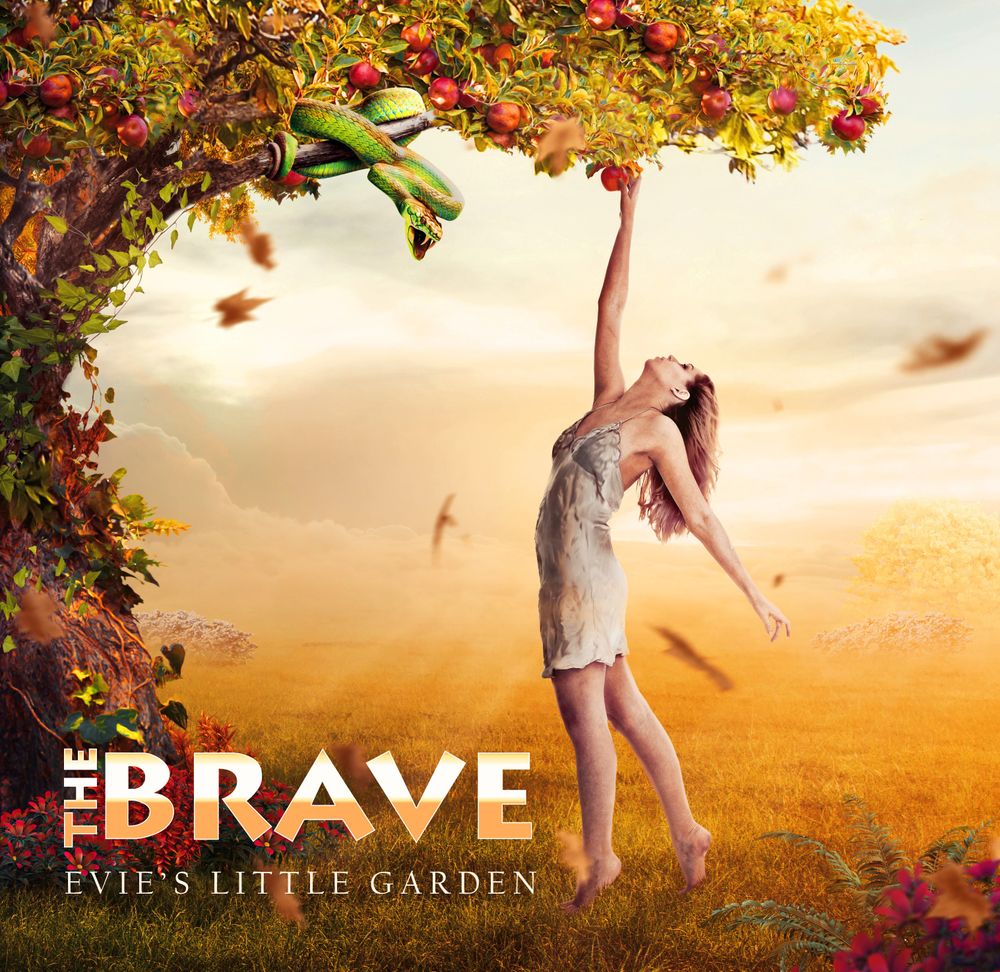 ANGELIC WARLORD HAS THIS TO SAY ABOUT ELG:
"In the end, Evie's Little Garden ranks among the finest Christian AOR/melodic hard rock albums released the past thirty years."
"With commercial hooks aplenty, soaring lead vocals and guitar to complement, Los Angels, California based The Brave embodies the definition of AOR meets melodic hard rock."
Thank you to Andrew Rockwell for a fair and balanced review! Read more at: https://angelicwarlord.com/reviews/b/thebrave21.html
IRIDIUM ROCK AND METAL REVIEWS - FULL ALBUM
Evie's little garden review by sam dingle - fan review
After 27 years, If I Told You that I've Always Wondered whether Evie's Little Garden was the album by The Brave to truly Elevate Me into rock 'n' roll Love: Automatic, I'd not be mistaken! In fact, I'd Run To You and be completely Lucid about it, so you'd Come To Me and hear my fan review of this incredible album… I felt the undeniable power of this disc Creep up on me, as the love of Christ overcame my rock senses to warm my Lonely Bones. Then I realised, We're Not In Kansas Anymore - and that EV's is a superb album from start to finish! 
This recording stands on its own from previous efforts, yet perfectly encapsulates the old and new in a surprising, refreshing and versatile way. Band members Stayce Roberts, Malcolm Paris and John Spittle should be super proud of this one – as after the release of the LP's first 3 singles, excited fans have speculated for months that the album will be epic: boy were they spot on! Evie's Little Garden sounds like the eight month labour of love that it is – and possibly the most fun the band members have ever had since reforming in 2014, despite numerous personnel changes over the years. That said, the guys sound right at home on this recording – particularly due to the great decision to have long time guitarist Stayce taking on mic duties as the band's front-man, as well as continuing to excel in his craft as a brilliant six-stringer. 
The overall message of the album is of loving our neighbor, as each other: couldn't be more pertinent now with backdrop of the BLM movement and the rioting on the streets of the US in our now COVID-age. Very similar to back in '92 when the Battle Cries album came out to the backdrop of the LA riots. The track We're Not In Kansas Anymore best reflects almost a microcosm of our current society, the lyrics asking the big questions, 'Love is the weapon we hold in our hand, time is a season we use on demand, but we forget about love…but what do you do when isolation is near?' Indeed, EV's asks the right questions in our battle with sin and our need for intimacy with our Saviour. The album wears its metaphorical heart on its sleeve and is human and compassionate in its simplicity – yet deeply profound at the same time. 
EV's is a masterpiece of rockabilia, shining different colours of diversity of the 12-track spectrum: No song sounds anything like the other. That said, I can hear influences ranging from Mr Big, Extreme, Queen, Guardian, Scorpions, Bon Jovi and Queensryche – to name a few. All 12 cuts on the disc sound fresh, mesmerising and intoxicating. The listener feels drawn in and hooked on the melodies, arrangements, hooks and riffs. The album is highly emotive and really delivers as such in vocal delivery, lead guitar and keyboard parts. 
Things that stand out? 
1 – Lead Singer: Excellent decision of guitarist Stayce Roberts attending to lead vocal duties. These songs have a settled, deliberate structure to things again with the obvious chemistry apparent in the three-piece band set-up. What a way for Stayce to show the power and emotion he has in those pipes of his… a surefire winner! You can tell he's having fun with it! He has a rock voice well-suited to the material here. He's accomplished in his diverse, emotive and deliberate style – and stands alone – despite obvious comparisons with many a great frontman over the years. That said, I can hear a little Oni Logan, John Bon Jovi, Randy Roberts – and even a little Ozzy Osborne. Whether in an into or creative fill-in sections, Stayce has a diversity in range and delivery that coincides with the emotional pull to the message of each track. In Creep, there's an Ozzy and Todd La Torre feel; in Love:Automatic, it's very John Bon Jovi in delivery.  We're Not In Kansas Anymore is decidedly Randy-like. 
2 – Production quality:  The production is A1 ear candy! Brilliant decision having the great JR McNeely attending to mixing duties again after collaborating on both Battle Cries and Trust albums. The mixing guru ensures everything sounds big with the arena rock sound from Battle Cries, while incorporating the heaviness of Trust.  Arguably the heaviest material the band has produced, there is jaw-dropping crisp, clean layering to the songs that maximises atmosphere. This is what all the tracks require to successfully articulate the emotion and story each song has of its own. 
3 – Songwriting:  Is just so strong, and the album so consistent in its track order, that it's hard nit-picking on working out what songs are the most memorable… Answer? They all are in their own surprising way! Many of the tracks have surprising twists and turns with melody, song construction and chord changes – but particularly with tempo changes you don't see coming. Atmospheric tones – like of characters, insinuations of though-life and self-talk appear at the intros to Creep, Elevate Me and If I Told You – all wonderfully done. Creep in particular sounds a little Screwtape Letters-like in the intro, with hints of Queensryche's Operation Mindcrime and Bride's Silence Is Madness-like industrial, machine-like voices. There's wonderful storytelling, with a recurring theme throughout the lyrics of a call to for all of us to take personal ownership of what God has made us responsible for as Christ-Ones. There's a subtle response to the human question of faith – and whether or not we truly believe we're loved by our Heavenly Father. All Together Now's mandate of, 'What are we fighting for? We've already won the war…' is re-addressed with Love:Automatic's sentiment that, 'It seems we're all at war – nobody knows what for…' As songwriter, Stayce really goes there on different subject matters, shining a light on the fallout from The Fall (Title Track) to the fight against secret sin with the enemy constantly on our backs in Creep – to a little social justice commentary – and exposing the heartache of child abuse on one of my personal favourite tracks, 'Lonely Bones.' Writing-wise, the biggest surprise on the disc is Lucid. It's unmistakably Queen-like, as the song the world needs to hear right now: For Christ-Ones to choose to be easily understood and bright and luminous in sharing the Gospel to others, rather than hiding the message away… Powerful! 
Across the 12 tracks, there are plenty of encouraging shots-in-the-arm, reminding the listener of God's perspective of their experiences of pain and grace. There's a range of the gut-wrenching along with the compassionate. All-in-all, the writing – with the music to accompany- is nothing short of catchy-as-anything, melodic sing-along jams, in a rock-Heaven! 
4 – Background Vocals: Stayce and Malcolm Paris are a BGV match made in Heaven! Layered and atmospheric, together these guys sound killer throughout the album in a modern yet impacting way. None more so than in haunting endings to both We're Not In Kansas Anymore – which is very Eagles-like – and in The Lonely Bones. Both tracks in particular have a huge impact owing to the awesome BGV's. 
5 – Ensemble of musicians:  The band sound seamless together – each musician playing their part perfectly. Tones are simply beautiful. Malcolm's tone is like an undercurrent heartbeat, driving his bass along with subtle energy and drive. John pounds those skins like a man about to go to war in a tight and unrelenting manner. Stayce leads the way with his guitars' gorgeous tones and energetic, yet simplistic lead parts:  Gritty, yet clean-sounding 'cake frosting.' Together, the guys are as tight-as-anything as they showcase a delectable sound. It's smooth, creative and groovy music-making here. 
Track Notes: 
Evie's Little Garden: Groovy, blistering rock anthem with arguably the catchiest chorus of the year: Kept me humming along at work, home and play – even my ablutions. Reminded me of Extreme, 'Appetite…'-era Gunners and a little Lovewar. 
Run To You: Extremely melodic; double-guitar harmony throughout. Has a 'glad you could come' kinda vibe. Lyrical shot-in-the-arm. 
I've Always Wondered: Sounds a little Operation-Mindcrime-like Queensryche at times, but surprising and sing-along-worthy, all the same. 
We're Not In Kansas Anymore: One of the best songs on the disc. Perfect slower, bluesey – even bruiser-like number. – A worthy cross between The Killing Floor and Can't Let The Devil Win – but with a big Eagles vibe – especially in the chorus' and the haunting BGV parts: The statement track of the album for our times. 
Elevate Me: Great little southern-like December Radio/Third Day acoustic intro – then breaks full-on into a musical rock wall of sound like it's been built from the ground up. Reminds me of Fire And Love-era Guardian. A firm album favourite. Beautiful, groovy 4th, 5th and 7th of notes are apparent musically and vocally. Memorable and simple solo that's all in the tone. Upbeat avalanche of righteous, sing-along bliss. Surprising in slight tempo changes at times. 
Creep:  Beast of a track! Creepy, spinetingling and awakening. Best example of Stayce's diversity and urgency in vocal delivery on the whole album. Very Ozzy Osborne in parts. Monster solo! It's the track that's stuck in my head the most – and that's saying something, all ALL tracks are like sticky toffee getting stuck in the head in their own way… Reminds me of Wither Me from the Rise album. Arguably the best track on the record. 
If I Told You:  Tears at the heart strings. Clearest message of the Father's heart to His children of His pursuit of us. Robotic/Star Wars-like voice in intro brilliantly represents our thought-life/self-talk. Picks up where Rise left off, but wouldn't sound outta place on the Rise disc. 
Lonely Bones:  Atmospheric, urgent and haunting beast of a rock ballad shining a light on child abuse. Deeply moving and profound, yet simple and child-like from the child's perspective – and an overarching sense that God sees and knows all. Kinda Winds Of Change-era Scorpions vibe mixed with emotional state of Guardian's Time Stands Still. Gut-wrenching but hopeful, in that God hears the child's cries. 
And We All Fall Down:  Uplifting reminder we are not alone and we all fall short in life. Happy and hopeful. Bit of an anthem. Simple, yet catchy. 
Lucid:  Absolutely brilliant hidden gem. An ode to Queen vocally, musically and song construction. Call to arms of sorts. Inspirational strength-in-unity message, ala All Together Now. Catchy-as-anything sing-along rocker. 
Come To Me:  Excellent and interesting rock ballad that – structurally and key-change-wise – goes in different directions. Unexpectedly refreshing and different. As though one is sitting at Jesus' feet, just listening. Shades of Petra's Counsel Of The Holy meets Skillet's You Take My Rights Away keyboards. Sleeper hit! 
Love: Automatic – Quite a bit of Bon Jovi and Cheap Trick rolled into one. Stayce even sounds like JBJ here! A wind-the-windows-down driver-type track. Catchy, anthemic party song. Call to arms to love others in our communities in unity. Again, All Together Now vibes from Battle Cries. 
In conclusion, Evie's Little Garden is a delight to the ear and the heart. The Brave have really excelled themselves. There's really nothing I can fault in any track, such is the consistency of music and message on display here. Make no mistake – EV's is the best album of material in The Brave's catalogue – period. This wonderful album will truly stand the test of time. An album for the fans brilliantly created from front to back. It really is a homer – knocked straight outta the park and into the stands! 
Side note:  A little birdy tells me that a new album will be in the works before this year is out, for release in 2022… Aren't we in for a treat, then?! 
Evie's little garden review by dave priest - the metal onslaught
One of the greatest bands to ever make their mark via the Christian music scene is without a doubt a powerhouse act known as The Brave. Subsequently, they also happened to have had a huge impact in the life of a 16-year-old new to the faith Christian. Hailing from my hometown of Lancaster CA. I started my journey following these guys' careers when they were originally called Faxx (first with only one X in the name). Back in the day, Faxx managed to get the attention of The Elefante brothers when they got to play alongside the legendary Guardian, (remember that gig Stayce? I booked you guys together in Littlerock, CA). That gig eventually led to them changing their name to The Brave, signing with Pakaderm, and releasing two stellar albums, 1992's Battle Cries and 1994's Trust. The latter saw the band's drummer Randy Roberts take over the lead vocalist position and change musical directions just a bit offering up a more blues-infused sound than its predecessor. Both albums were well received but their debut seems to be the more favored of the two. In 2014 they released Rise, an album consisting of re-recorded tracks and five new tunes. Following the untimely death of Roberts, the vocalist position was taken over this time by a female singer (Amanda Z). This did not sit well with most fans including myself. I chalk it up to the reaction I probably would have had if Van Halen were successful in bringing Patty Smyth (Scandal) onboard following Roth's departure and prior to selecting Hagar as the band's new frontman. I'll just leave it at that. 
The Brave 2021 consists of original members Stayce Roberts on guitar and vocals, Malcolm Paris on bass, and drummer John Spittle who played with the guys during the Trust tour. After nearly 30 years the band is finally releasing their first full-length album of all-new material since 1994, and the album is a total scorcher at that! Evie's Little Garden is twelve tracks of pure unadulterated hard rock bliss. 
Beginning with the title cut, it is rather easy to hear the growth that the band has achieved over the years. While maintaining that 80's AOR precedent set forth by their early work, the guys have also kept their music relevant in the scheme of today's environment. Let's face it, the sounds most of us grew up on never get old and are much more favorable than the majority of today's modern music. That's why despite what some may say, Rock is still quite alive and will never die! "Evie's Little Garden" (the song) is a mid-tempo rocker that at first comes across as a slowed-down homage to The Knack's "My Sharona." It, however, does not rest there and takes on a life of its own with a super catchy chorus that sticks in your head for days. Evie's little garden, meet Stayce's nasty little guitar riff! Wow! This is exactly what I would expect from Mr. Roberts on guitar but to be perfectly honest I didn't think he had it in him to pull off vocals of this caliber. His phrasing, tone, diction, and emotional prowess is absolute genius. "Someone saw a snayayayake!!," and how about that Michael Sweet-like scream at the end? 
The following two songs "Run to You," and "I've Always Wondered," bring back big memories for me as these are resurrected from the ashes of the Faxx days and given new life. Straightforward lyrics are pronounced throughout the album, and it really is such a breath of fresh air to know where these guys are coming from and not have to play any guessing game. "Jesus, I will follow you," doesn't get any more real than that. "I've Always Wondered" evokes some progressive elements and has some very odd vocal and musical moments that make this a standout cut for sure. This was always one of my very favorite tunes from back in the day and it is great to finally have it released in this capacity. The message here is one that is nearly impossible to fathom for those of us who are believers, no doubt that there are those times that we may question our faith but to question what life would be had Christ not died for us? That is startling, to say the least. 
Stayce does a fantastic job vocally channeling the spirit of original vocalist James Salters on the redone Faxx tunes but is even more convincing when it comes to capturing the essence of his late brother's abilities. This is evidenced on the very bluesy "We're Not in Kansas Anymore." Really reminds me of "Can't Let the Devil Win" from Trust. "Elevate" is a solid rocker and while it holds no real surprises it is not filler in the slightest. This is actually one of the heavier songs on the album. It boasts a chorus that despite its address does anything but take me down. 
According to bassist Malcolm Paris, the song "Creep" may be the best song Mr. Roberts has ever written and he's not wrong! As the demonic vocal introduction comes over the speakers and the eerie music gets underway it is the type of song that will make every hair on your body stand up and take notice. That being said, it is not necessarily done in the feel-good way that you might think. The song is a reminder that although we are protected from the enemy, he is always lurking and looking for a way back into our lives. 
As the album progresses, there are some really great moments still to come, "If I Told You" is another powerful tune that keeps the momentum going, and "Lonely Bones" is a sad rocker that resonates with some truly deep-seated emotion. A bit of a lighter attitude is found with "And We All Fall Down," (gotta dig those 80's keys that peek through at just the right times.) "Lucid," is another catchy gem sporting some 70's ELO influences if I'm not mistaken. 
One of my favorites found in the garden is a song that finds its place near the end of the album and has an almost Whitesnake feel to it, at least in the vocal department, maybe a bit musically as well. "Come to Me" is a very prominent song on the album IMHO. Stayce is such a great guitarist and composer. This guy has always been a shredder but knows exactly how to create just the right arrangement never sacrificing the song for the sake of his own abilities. His days with John and Dino have also paid off as the recording production here is nothing short of stellar. The album was mixed by Grammy-Award-winning Mix Engineer JR McNeely. 
The last track on the album, "Love Automatic" is the perfect closer and sends us off with a great feeling of euphoria. The title says it all! When I first received the first four songs from Stayce in January, I told him then that if what I was hearing was any indication of what was to come, then the album very well could be a primary contender for album of the year, and after hearing the complete mastered version I stand by my claim. Evie's Little Garden is now at the top of my list! 
-Priest